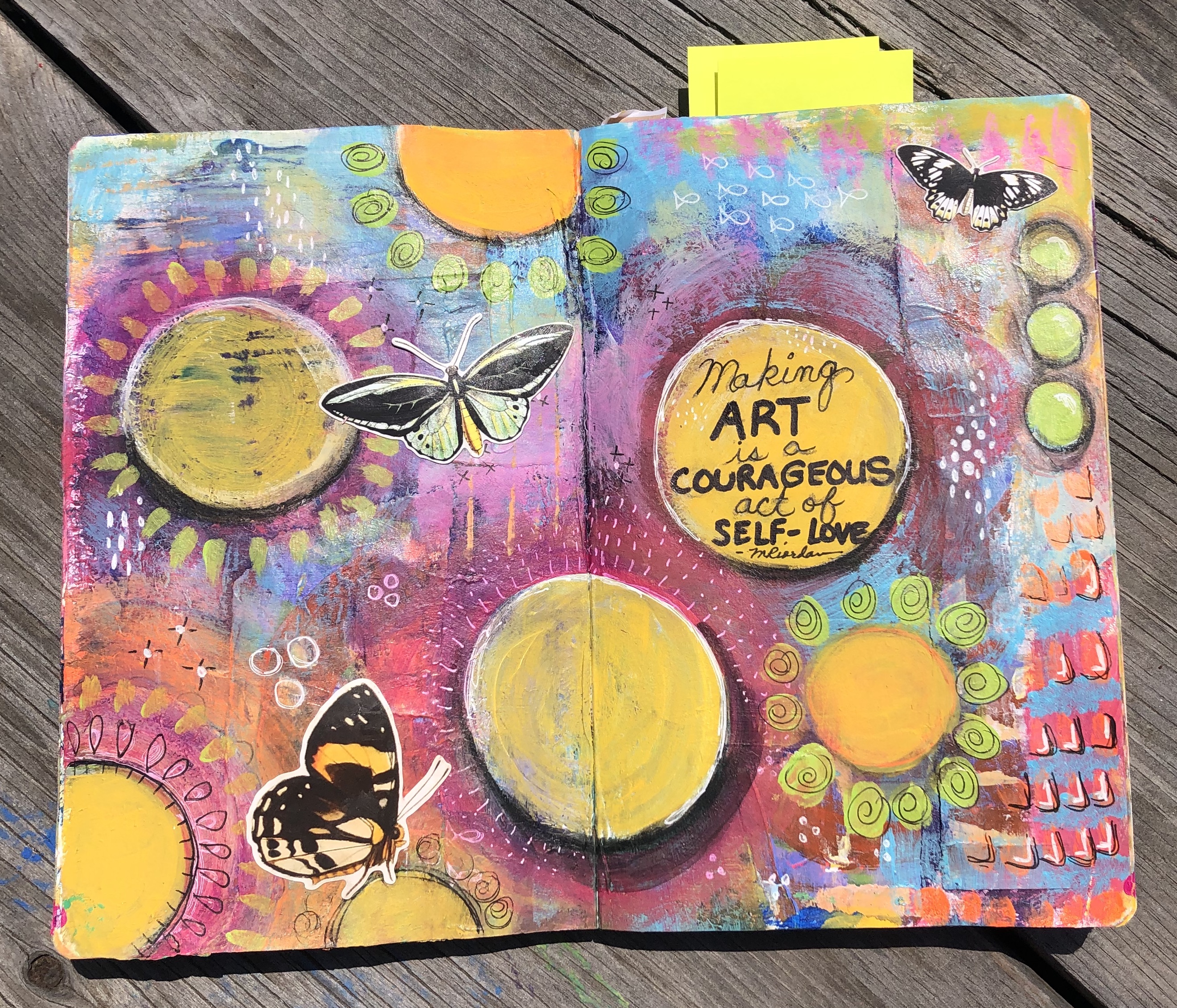 Join Minette for a New Year's Day Painting in your Pajamas Party!
My favorite way to start the day is by painting in my pajamas. With coffee of course!
What better way to begin a new year than putting dreams on paper and playing with paint!?
Join me from 8am to 10am Pacific/11am to 1pm Eastern for a LIVE creative play session.
This live play session will kick off a 7-day visual journaling challenge to support you in designing your most creative and joyful year ever.
New Year. New Art. New YOU.
Are you someone who's plate is always brimming over? Are you doing too much? Always putting others first? Saying yes way more often than you want to? Lacking or completely forgetting about time for yourself?

Are you ready to make your creativity and your self-care top priorities for 2022?
Do you get to the end of the day and feel too tired or burnt out to think about doing something creative?
Now is the moment where all that changes.
You deserve a sustainable creative self-care practice that nourishes you and that sets you up for ongoing success. A practice that leaves you feeling energized and empowered! 
Committing time to a regular creative practice isn't selfish or frivolous, it's essential and even radical form of self-love.
What if you put YOU in the center of your ART and your art in the center of your LIFE?
It's time to fill your self-love cup with a nourishing and empowering daily creative practice that you can do in a few minutes a day. 
What is Courageous Creativity?
This short and sweet 7-day challenge is the perfect New Year's gift to yourself.
No artistic skills are needed.
Discover a simple, encouraging and reflective practice that you can do once a week or once a day using elements of mixed media art, writing, and collage.
Each day for 7 days you will receive:
A brief guided meditation (3 to 5 minutes)
A short video lesson (under 10 minutes)
A prompt
A supply list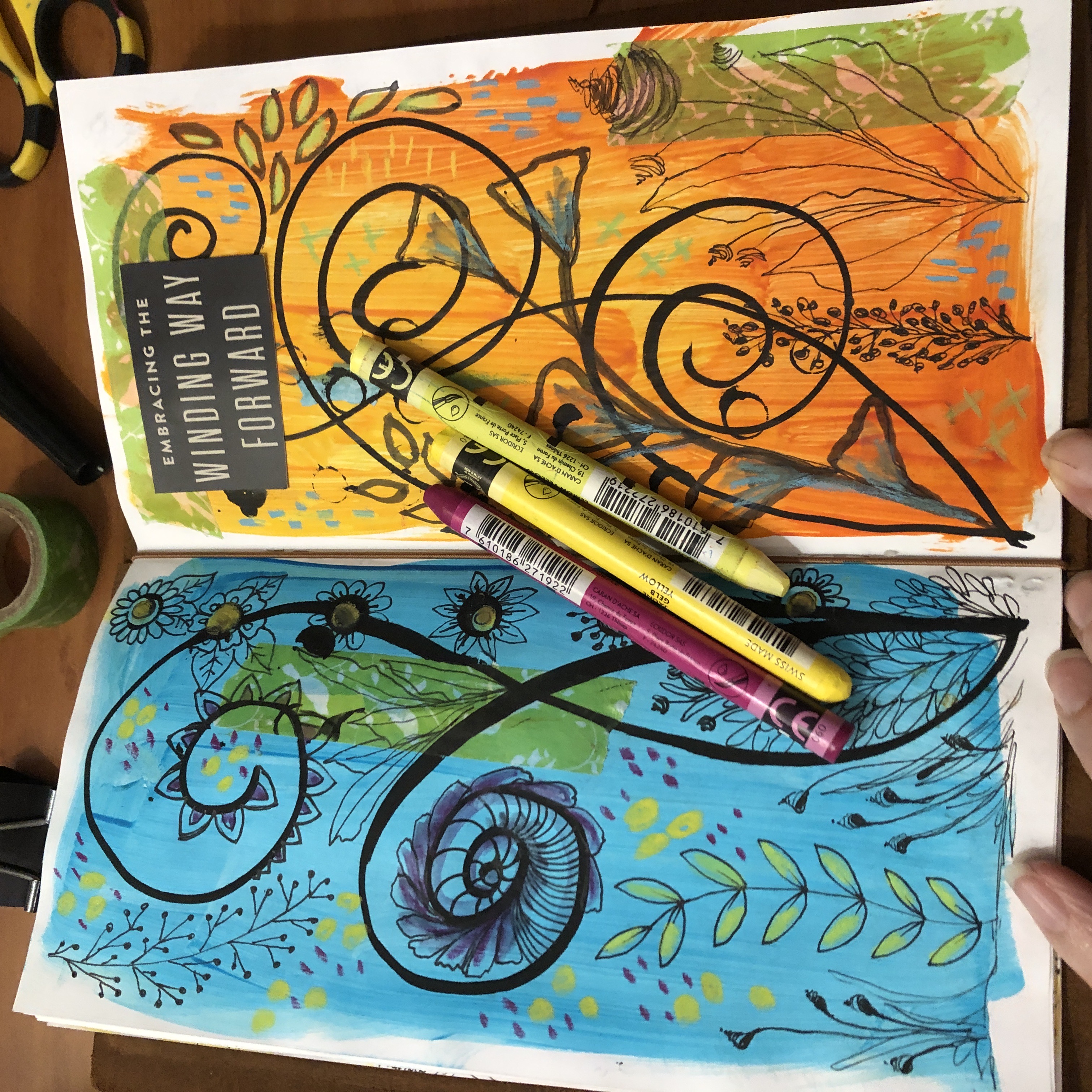 What is Visual Journaling?
Visual Journaling is a form of creative self-expression that uses imagery, color, shape and form to connect with our inner thoughts and emotions more fluently than words can.
Imagery is our primary language and is learned long before we are able to speak, draw or write.
Visual journaling invites you to be open to explore, discover and reconnect with yourself and your life experiences through art and writing.
Visual Journaling is a powerful tool for personal meaning-making and creates space on the page for you to see yourself, your dreams and your feelings.
What better time of year to connect with yourself, your dreams and your desires than January?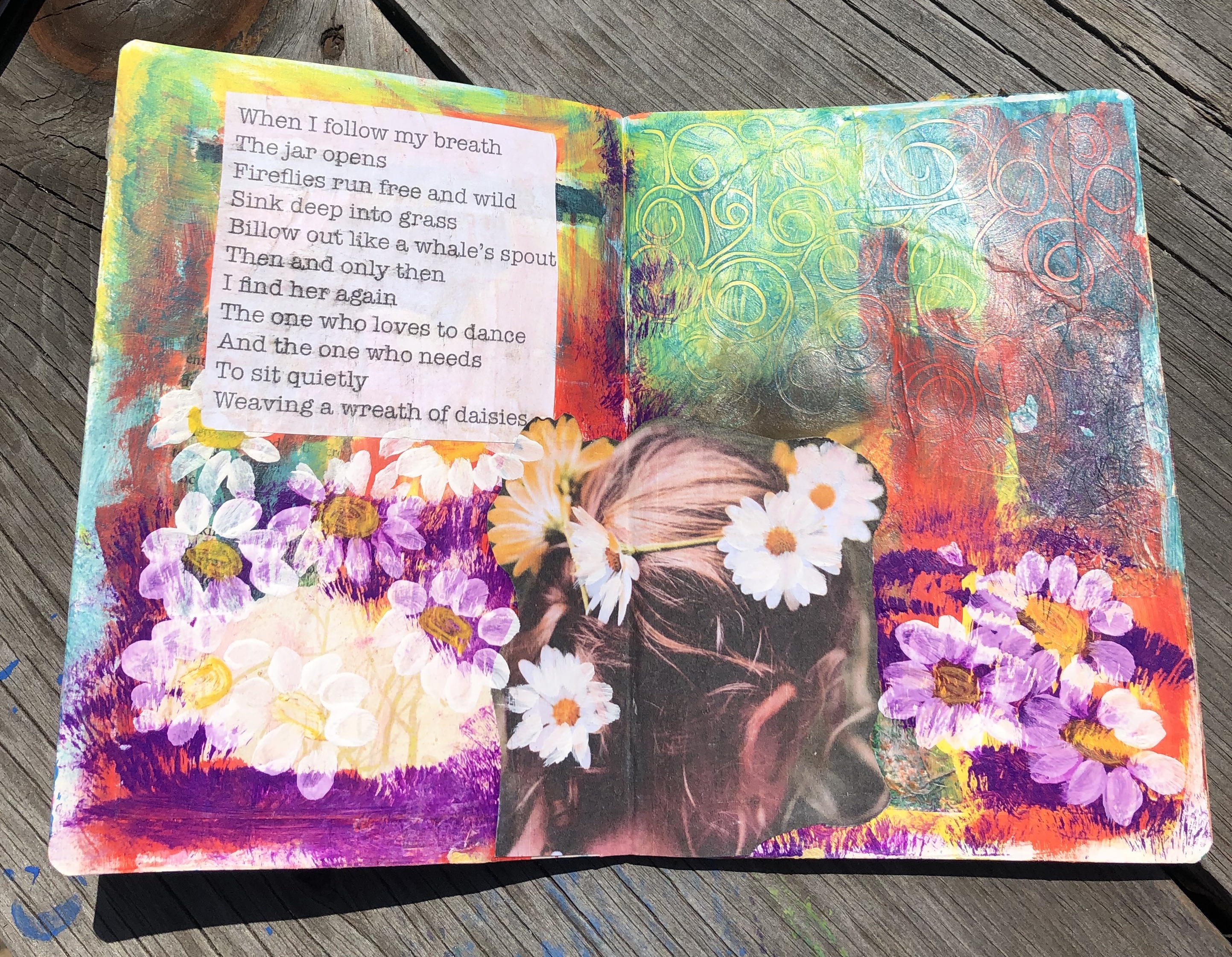 What does the Courageous Creativity Challenge include?
Two-hour live creative play session

on January 1, 2022. (This will be recorded and available in the classroom.)

A recorded

introduction to visual journaling

and how it is different from or similar to art journaling.

Daily video lessons and prompts

to support your visual journaling practice in about 15 minutes a day for 7 days

Recommended supply list

Bonus content on

how to make time for yourself

& your creativity as well as how to make space in your home for your visual journaling practice

Ideas for

how to continue your visual journaling

practice beyond the challenge

A

safe creative circle

to connect, share and inspire each other
Hi, I'm Minette, recovering overachiever and Queen of Reinvention.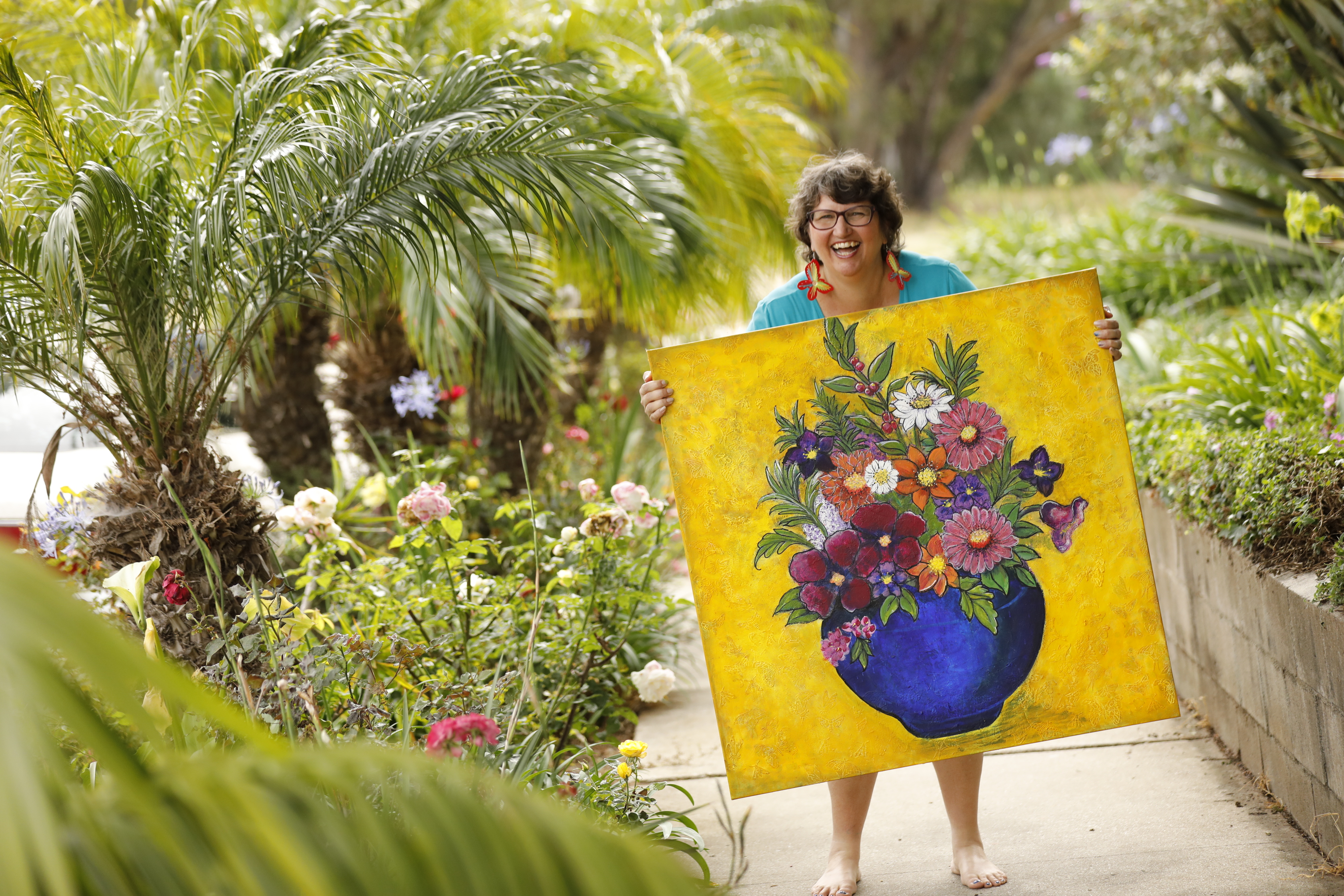 I have always been a risk-taker, adventurer and curiosity seeker who was comfortable jumping feet first into new endeavors. My mantra is, "how hard can it be?"
The answer: way harder than I anticipated but also more fun, more challenging and more fulfilling than I knew was possible.
No version of reinvention has been more challenging than my journey to claiming "I am an artist."
In the past 20 years I have built several successful businesses and am finally owning that I am a multipassionate serial entrepreneur who loves writing, art, poetry, teaching, coaching and building businesses. In the past decade, I have published 3 books and am working on my 4th. I've written hundreds of blog posts, not to mention completing 6 different coaching and training certifications.
A few years ago I started selling my art which took me by surprise. I am a seeker, deep thinker and rebel on an eternal quest to become the best version of myself. I am sure it will be harder than I thought. But I am up for the challenge. See more about my journey on my website here.
Answers before you ask
What happens if I miss a day, get stuck or feel like I'm behind?
First, take a deep breath. This journey is intended to fill you up and nourish you, not add to your stress. Second, I will be sharing specific tips on how to make time for your daily creative practice so you show up for yourself every single day. Finally, I know that life happens, we get called away and I want to reassure you that you have lifetime access to the content and to the Courageous Creativity community. Your self-love journey should last a lifetime and so will this program. 
Will I need to purchase special supplies?
Well, that's a loaded question :-) No, you absolutely do not need to purchase anything. I will definitely include a list of recommended supplies for all participants. I encourage, no I challenge you, to use what you have at hand. I will be showing examples that include Zentangle®, collage and mixed media with acrylic paints but you can create your visual journaling pages with any tools you have at hand.
I'm not artistic, is this still for me?
Absolutely! If you can write your ABCs you can do this. And I know deep in the core of my bones that you are creative. During this 7-day process, you will find playful and simple ways to reconnect with your Inner Artist, even if thinking about drawing makes you cringe.